Circle sculpture stand
The stainless steel circular sculpture uses 304 stainless steel combined with baking paint technology and waterscape. The integrity of the circle implies infinity, unity, harmony, and can also express reunion, which means family happiness. The circle is also beautiful, and their curves are often Feminine, represents warmth and comfort, and at the same time gives people a feeling of sexiness and admiration. Compared with square, it means artificial, and circle means natural.
The stainless steel circular sculptures use stainless steel to forge the crescent shape, combined with the forged copper lotus leaf lotus, which represent protection and infinity. They limit what is inside, and at the same time do not let outside things come in, representing integrity, communication, completeness and integrity. The circles appear to be free to move or roll, and their sense of movement embodies energy and momentum.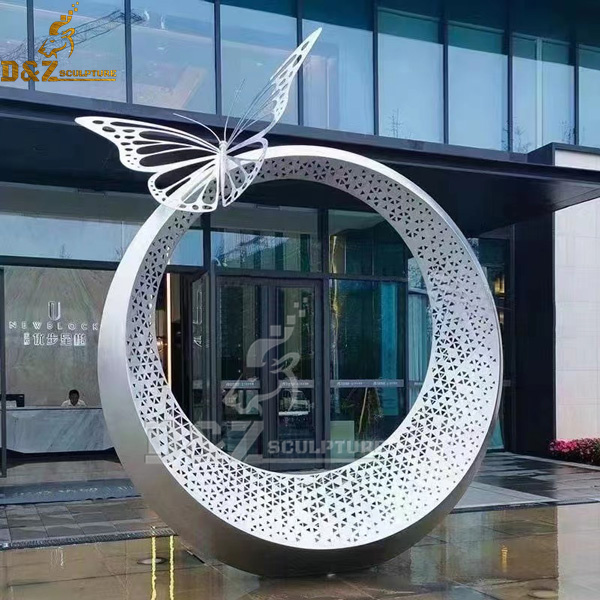 Stainless steel material is widely used in construction projects. In recent years, it has been introduced into the sculpture industry. It is not only stainless steel sculpture, but also shows different sculpture effects. This article focuses on the advantages and disadvantages of stainless steel sculpture.
We all know that stainless steel has the characteristics of corrosion resistance, acid and alkali resistance, in fact, these are two important characteristics of stainless steel sculpture.
Of course, in addition to these two characteristics, stainless steel sculpture also has the characteristics of high hardness, bright and lively appearance, not easy to pollute, and strong sense of the times. Therefore, the sculpture made of stainless steel is simple and elegant, and has a delicate sense of shape. At the same time, the light and shadow effect under the sun or light is also very good.
Stainless steel sculpture is a new type of sculpture developed on the basis of traditional stone sculpture. Because of its unique characteristics of being bright, lively, not easy to pollute, and in line with modern urban life, it has been gradually accepted by the public, and its market share It is getting bigger and bigger, and there is a tendency to surpass traditional stone carvings gradually.
Stainless steel sculpture, by the end of the nineteenth century and the beginning of the twentieth century, the tide of modern art was surging, the traditional concept of art was constantly denied, and new materials, new techniques, and new concepts emerged one after another. In this context, the real stainless steel sculpture – direct stainless steel sculpture was born. It understands metal as an independent material, a sculptural modeling language completely different from clay sculpture, and uses cutting, welding and other new technological means to directly to create.
The emergence of direct stainless steel sculpture has completely changed the creative principles of traditional sculpture, enlightened people's thinking, and enabled artists to create art works with more characteristics of the times.
Boqian Sculpture Factory constantly updates the latest stainless steel processing equipment, constantly absorbs international stainless steel sculpture processing experience, constantly communicates with sculptors around the world, and even absorbs the most advanced experience across industries, combines artistry with processing and production, and presents the most perfect Stainless steel sculpture work.