Circle sculpture
·Introduction
There are so many kinds of sculpture can decorate your garden, the most of abstract sculpture are made of stainless steel. This metal circle sculpture is made of 304 stainless steel material,and there are some lotus leaf with this circle. You can put this white circle sculpture under the water. You can use it for life time.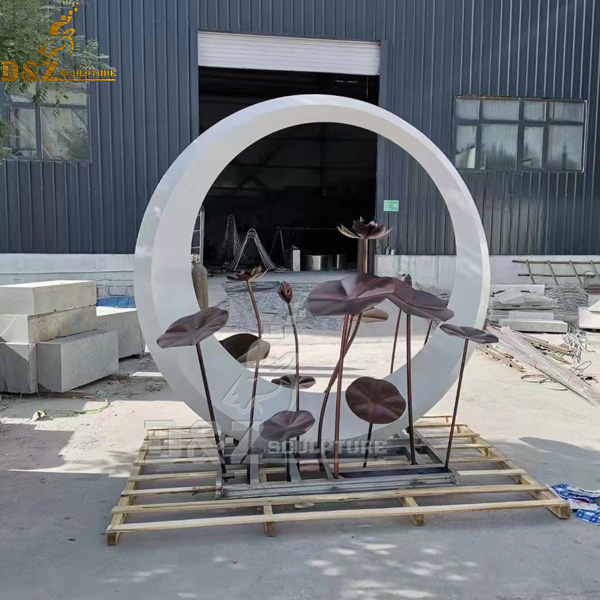 ·Advantages
1. Long service life and durability. Stainless steel sculpture material itself has the characteristics of high strength, high hardness, not easy to fall, pitting, rust or wear, etc. Stainless steel is not easy to rust, easy to clean, strong wind resistance and durable; it determines the durability and long service life of stainless steel . Nowadays, stainless steel sculpture has become the mainstream of sculpture.
2. Low maintenance cost.  Stainless steel material is not only resistant to heat, high temperature, but also low temperature and even ultra-low temperature. Regardless of the tropical area in the south or the cold area in the north, stainless steel will not deform, and there is no maintenance cost at all.
3, bright, elegant, high finish, not easy to pollute.  Stainless steel sculptures have bright colors. Whether they are placed in squares, communities or parks, stainless steel sculptures are a beautiful scenery, and stainless steel sculptures are not easily dirty.
4. Light material and high strength.   The tensile strength of stainless steel and carbon steel is relatively close, which is equivalent to one-fifth to one-quarter of carbon steel, but the strength of stainless steel sculpture can be compared with advanced diamond material. Therefore, stainless steel materials have outstanding results in reducing their own weight compared with other materials in the fields of high-pressure vessels, rockets, aviation hover vehicles and space hover vehicles. Moreover, the compressive strength, tensile strength and bending strength of stainless steel materials are very strong.
5. Good corrosion resistance. The material of  stainless steel is a very good corrosion-resistant material, and its resistance is relatively strong. It is suitable for the usual concentration of acid, alkali, salt, water, and some solvents and oils. The anti-corrosion function of stainless steel can be used in various aspects of the chemical industry.
6. Good workmanship. The material of stainless steel can be completely selected according to the planned shape of the product, the use of the product, and the function of the product, and its craftsmanship is also relatively simple, and it can be formed in only one time. result.
7. Good planability.   Sculpture planning can be carried out according to the results that the sculpture wants to present, and different sculpture products can be flexibly planned to meet the needs of the planning flexibly.
8. Sculpture is practical. As a work of art, stainless steel sculpture can be said to be the artistic induction of a city. It can reach the state of artistic sublimation, and can set off the surrounding. It can be placed in different places as decorations, suitable for parks, botanical gardens, flowerbeds, and indoor spaces. Outdoor and indoor occasions such as Lu District, squares, shopping malls, hotels, guesthouses, guild halls, etc., can be decorated with stainless steel sculptures.
·How to use circle sculpture
Stainless steel circle sculptures are widely used, not only for household goods, but also for industrial and decorative purposes, such as parks, botanical gardens, streets, residential areas, amusement parks, squares, shopping malls, hotels, hotels, clubs and other indoor and outdoor venues.