Abstract horse
When you see a statue of a knight, if the horse is in the air on all fours, then the person is killed in battle.
When you see a statue of a knight, if one of the front feet of the horse is raised, then the person was seriously wounded and died in battle.
When you see a statue of a knight, if the horse has all four feet on the ground, then the person died of natural causes.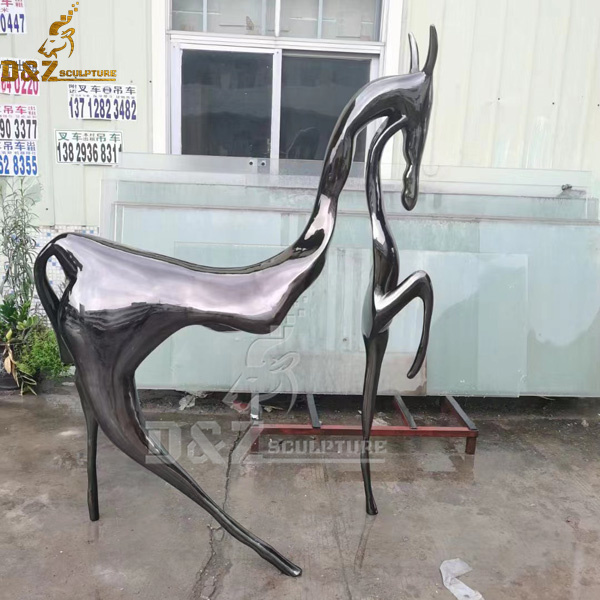 Stainless steel sculpture features, we all know stainless steel sculpture. It is a form of sculpture made of stainless steel material, so stainless steel sculpture must not rust? Below, D&Z  sculpture will introduce the characteristics of stainless steel sculpture to you. .
Stainless steel has the characteristics of being resistant to weak corrosive media such as air, steam, and water, and chemically corrosive media such as acid, alkali, and salt. Due to its many advantages, stainless steel is used as a material for many urban sculptures. Sculptures made of stainless steel are simple and generous, with a clear sense of shape and strong light and shadow effects. After the reform and opening up.
Characteristics and decorative effect of stainless steel sculpture Stainless steel sculpture is a new type of sculpture developed on the basis of traditional stone sculpture. Because of its unique characteristics of bright, lively, not easy to pollute, and in line with modern urban life, it has been gradually accepted by the public. Its share in the market is getting bigger and bigger, and it gradually has a trend of surpassing traditional stone sculptures; we can see stainless steel sculptures everywhere in life, and cafes, hotels, restaurants, etc. make full use of its decorative effect, which has played a role in the whole environment. Great contrast. Its overall light perception is very strong and it is not easy to be damaged and has an overall feeling.