Abstract sculpture
Ocean waves are the propagation of the undulating shape of the sea surface. It is a kind of fluctuation formed by the water quality point leaving the equilibrium position, vibrating periodically, and propagating in a certain direction. The vibration of the water spot can form kinetic energy, and the wave fluctuation can generate potential energy. The cumulative amount of these two kinds of energy is astonishing. In the global ocean, the combined energy of wind waves and swells alone is equivalent to half the amount of solar energy reaching the outer side of the Earth. The energy of the waves rolls forward in the direction the waves travel. Thus, ocean waves are actually wave-like propagation of energy. The wave fluctuation period ranges from a few tenths of a second to several hours, the wave height ranges from a few millimeters to tens of meters, and the wavelength ranges from a few millimeters to thousands of kilometers.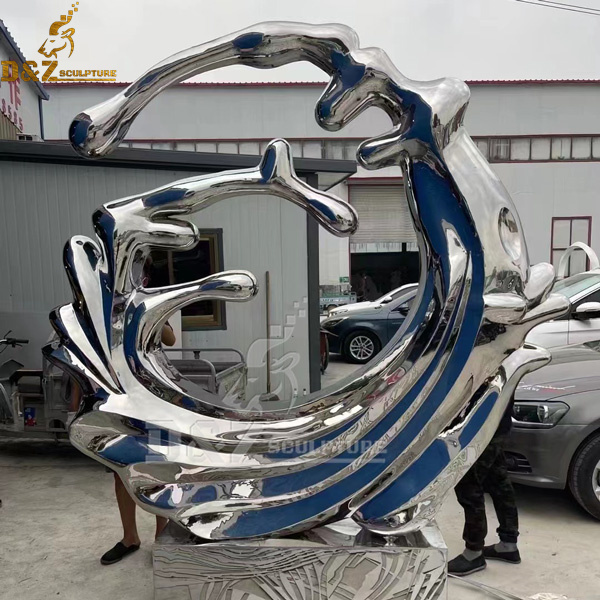 Stainless steel sculpture is one of the more popular types of sculpture in recent years. The most common one is urban sculpture. Stainless steel sculpture has a beautiful appearance, is not easy to rust, and has strong plasticity, so it is welcomed and favored by people. With the development of society and the acceleration of urbanization, the stainless steel sculpture market is becoming wider and wider, and the production technology of stainless steel sculpture is constantly improving. With the continuous development and progress of society, we are now more and more aware of the importance of art without boundaries.
The urban stainless steel sculpture is the most typical example. Many people think that the stainless steel sculpture is very rigid, how can it express the essence of art? In fact, it is not. Now the sculptures produced by metal sculptures after cutting and welding processes are not inferior to traditional sculptures at all. Moreover, in modern society, the preferred material for stainless steel sculpture is the waste products left in our production, which has made a huge contribution to our waste recycling, making full use of stainless steel sculpture, and echoing the energy saving and emission reduction advocated by the state. Urban stainless steel sculptures have gradually gained a firm foothold in the city, and streets and alleys are flooded with various stainless steel sculptures. Stainless steel sculptures are not easy to rust and are easier to maintain, which is much more convenient than traditional sculptures.