Coffee table set
Recommendations for the choice of table shape:
1. Avoid sharp corners on the dining table
Tables with sharp corners should not be used. From the perspective of Feng Shui, sharp corners are evil. The smaller the angle, the heavier the evil spirit. It will seriously damage the feng shui pattern of the house and affect the fortune of the residents. Sharp corners can be smoothed. Avoid hurting children.
2. Round dining table
The dining table is best round or oval, avoiding sharp corners. It symbolizes the prosperity and unity of the family business. The round dining table is most suitable for ordinary families. It is the first choice for the dining table because of its harmonious effect. It also symbolizes the reunion and intimacy of the family. It also means that there are no boundaries between their identities. popularity.
3. Square dining table
The square dining table is also very suitable. The small table can only seat four people, which is called the Four Immortals Table. The large table can seat eight people, also known as the Eight Immortals Table. Because it symbolizes the gathering of the Eight Immortals, it is also very auspicious. It is square and stable, symbolizing fairness and stability. Although there are corners on the four sides, it is not lethal because it is not sharp, so people are happy to use it.
In terms of color, the color of the dining table should generally be neutral, especially stable colors such as natural wood color, coffee color, black, etc., and try to avoid using too bright and stimulating colors.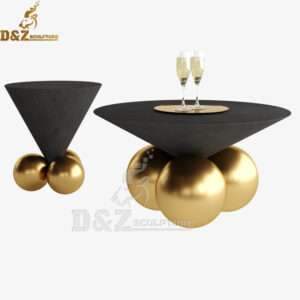 Three golden frosted spheres form a stable structure, the black cone's corners are properly combined, and the cone surface is used as a table top. Make this table modern and simple.
A set of tables can be placed in different positions in the home to complement and complement each other