Modern coffee table
With the destruction of the ecological environment and the increasing lack of natural resources, people's awareness of environmental protection has gradually become stronger. Therefore, many governments have successively promulgated environmental protection laws to limit the utilization index of various resources of production enterprises. You may think that a large part of Production enterprises that use natural resources as raw materials will face economic crisis and lack of market. On the contrary, many enterprises have ushered in another wave of production enterprises in response to the government's call to find a new generation of new energy sources that can replace natural resources. Stainless steel furniture should be born with knowledge.
Most of the general stainless steel furniture is made of 304 type steel. 304 stainless steel has the characteristics of acid and alkali resistance, high density, and excellent high temperature resistance and corrosion resistance. It is commonly used in household appliances, that is, furniture.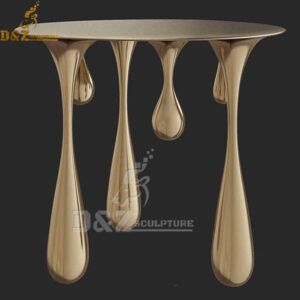 The water flow shape is more modern and diversified, and the golden surface can also echo the luxurious home.
Our D&Z sculpture can design and customize accessories and furniture for you more in line with your home style.
Welcome to contact us for more designs.