Metal horse sculptue
Characteristics and decorative effect of stainless steel sculpture Stainless steel sculpture is a new type of sculpture developed on the basis of traditional stone sculpture. Because of its unique characteristics of bright, lively, not easy to pollute, and in line with modern urban life, it has been gradually accepted by the public. Its share in the market is getting bigger and bigger, and it gradually has a trend of surpassing traditional stone sculptures; we can see stainless steel sculptures everywhere in life, and cafes, hotels, restaurants, etc. make full use of its decorative effect, which has played a role in the whole environment. Great contrast. Its overall light perception is very strong and it is not easy to be damaged and has an overall feeling.
A Pegasus that is running fast seems to be able to take off in the next second. The entire sculpture is made up of lines and slabs. The geometric design is modern and gives people a lot of imagination.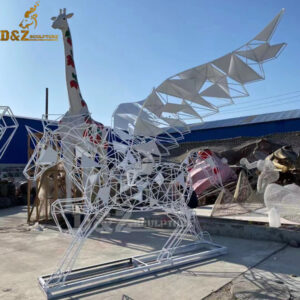 D&Z sculpture can custom made sculpture as you want, such as modern sculpture,modern animal sculpture,geometric sculpture,stainless steel sculpture,horse sculpture,metal horse sculpture, wire sculpture.
If you want to custom sculpture,just contact us for more information