Mondern  round  table
Stainless steel round table, Oval, square, or round table in a variety of dimensions and finishes with a single solid leg supporting the table top. The minimalism and formal simplicity of the design are heightened by the strong materiality of the white and black worktops.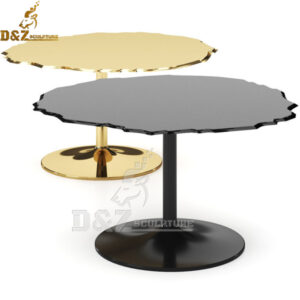 Metal round coffee table, The edge of the table is not a regular streamline, but a water splash. The zigzag-like shape of the edge of the table will add a more artistic touch to your home or hotel
You can choose the color you want, such as black, gold, white.
If you want more design,please contact us for more information. we can create designs for you.