Deer sculpture
·Intruduction
Stainless steel geometeric deer sculpture, metal art deer sculpture.one held his head high. The other was drinking water with his head down.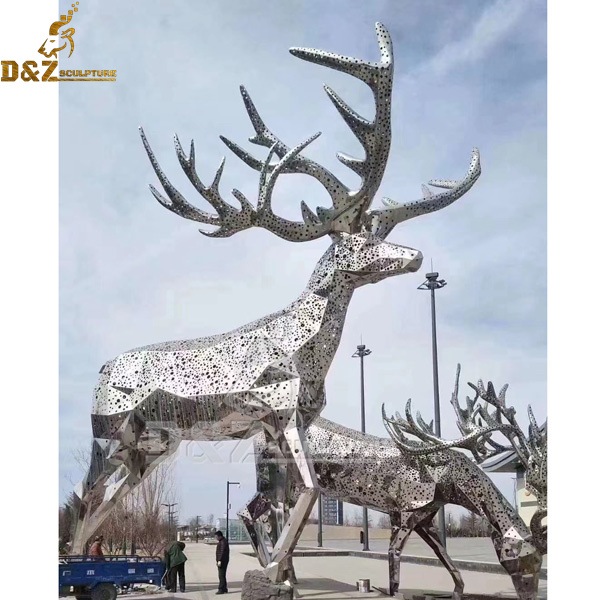 ·
Deer, belonging to Mammalia, Artiodactyla, Deer family, have horse body and sheep tail, narrow head, high feet but fast running. The males have horns, which are separated on the summer solstice. The big ones are like pony and have white flowers on yellow background. Females have no horns, are small and have no spots, and have yellow-white hairs.
The characteristics of most species are: slender limbs, short tails, males are larger than females, usually males have horns, and some males and females also have horns or no horns. There are many kinds of deer. It is said that Santa Claus rides an elk.
Deer vary in size. Generally, males have a pair of horns, while females do not. Most deer live in forests and feed on tree buds and leaves. Antlers grow with age. Deer are found in most of the Eurasian continent and the Americas. Among them, the antler of sika deer is a valuable Chinese medicinal material. A large number of artificial breeding has been carried out in China, and live deer antlers have been taken (which will not cause harm to deer). Antlers are the secondary sexual characteristics of stags in the deer family (individual genera have no horns, such as deer), and they are also weapons for stags to compete for mates. Deer were once widespread on every continent, and Australia has 6 species of deer that were introduced in the 19th century: black deer, red deer, sambar, porpoise, timven black and flower deer. However, due to environmental constraints, it is only distributed in a limited range.
Snow is one of the biggest enemies of deer. If the snow isn't very heavy, it's nothing. But when the snow gets very thick, they have a hard time finding food because the snow covers the food. Also, although deer run fast, as some deer can weigh up to 300kg, when they run, they get stuck in the snow, slowing them down. The wolves of only 50 kilograms easily caught up with them.
Unlike most animals, deer have no permanent home. For deer, the so-called home is the territory. They sleep in the bushes at night. In winter, when the deer's territory is covered with thick snow, they will find another area with relatively shallow snow. When many deer choose this site, they will divide the site.
In general, deer are the most valuable species of mammals. Its value is manifold. Since ancient times, from emperors, nobles to ordinary people, both Chinese and foreign, "deer hunting" has been regarded as an important activity that combines sports, sociality, entertainment and practicality. In ancient records, "hunting deer" always occupies an important position. Even "shooting", one of the six arts prescribed by Confucius, is also related to "shooting a deer". In ancient China, it was mainly elk, that is, four dislikes. In the Kangxi and Qianlong periods of the Qing Dynasty, it was red deer and moose.
Sculpture refers to ornamental objects and monuments with certain meanings, symbols or pictograms that are carved and shaped to beautify the city or for commemorative purposes. Sculpture is a type of plastic art. With the passage of time and the improvement of the level of science and technology, the engraving industry has developed rapidly. Various sculptures can be seen in cities, gardens and parks, and these sculptures accompany people's lives. The role of urban park art is becoming more and more important, and people generally want to enjoy a return to nature, so they pay more attention to the beauty of park art. The role of urban park art is becoming more and more important, and people generally want to enjoy a return to nature, so they pay more attention to the beauty of park art. It is nothing short of embodying a strong artistic style. In addition, the park sculpture also affects people who have lived in the city for a long time from the scope of art, and relieves the psychological burden caused by the fast pace of life and pressure. Going for a walk in a park that reflects the beauty of nature and humanistic beauty can make people feel comfortable and rejuvenate their passion and motivation for life. Moreover, park art is another kind of protection for the natural environment of the city.