Modern abstract table
The human body is the result of thousands of years of screening by nature, the survival of the best, and the transformation of the genes step by step.
The beauty of the human body is first manifested in the beauty of the physical appearance. Human body beauty belongs to the category of formal beauty and natural beauty, but it is social. The natural factor of the human body comes from the congenital genetic endowment, which is the highest form of natural beauty; the human body is formed and evolved in the process of human beings transforming the objective world and transforming their own social labor practice, which reflects the essential power of human beings and a specific era. , the national aesthetic concept, aesthetic attitude.
Human body beauty includes two aspects. As far as human body, posture and appearance are concerned, it is determined by the law of formal beauty, which requires the human body to be tall and straight, full of changes, symmetry, and attractiveness. Universal scale. As far as the essence of human body beauty is concerned, it is the unity of health, strength and beauty, showing a person's lively, brave, enthusiastic and vigorous mental state.
The development of human body beauty is closely related to social conditions. People of different eras and nationalities have different aesthetic standards for human body beauty. A civilized social environment, a good social life, and long-term exercise and maintenance provide the possibility for the growing beautification of the human body. . The beauty of the human body is an important aesthetic object of human beings, which can make people happy and strengthen their confidence in the essential power of human beings.
Making sculptures with beautiful human limbs can not only reflect the pursuit of art, but also reflect the yearning for beauty.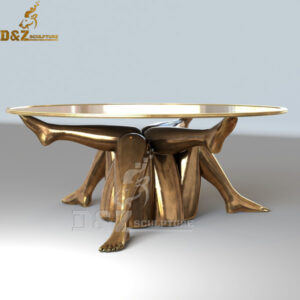 The characteristics of stainless steel are very suitable for making abstract sculptures. The abstract legs and hands can avoid the depiction of some details. On the contrary, it makes people pay more attention to the beauty of the lines.The bronze color design is more antique, if you need more detailed depiction of the hands and legs, we can use copper to make the legs and hands.
just contact us for the table sculpture, Stainless steel abrtact modern table sculpture,modern metal sculpture for sale, sculptures abstract table top,and so on