Red sculpture
The "heart" is a pattern that originated from the Chinese oracle bone character "heart". It is an expression of good feelings in people's hearts. The Chinese character "heart" does not only represent the heart, but also has a rich connotation. According to research, because science and technology were not developed in ancient times, before the Ming Dynasty, the ancient Chinese believed that all human thinking activities were also generated from the heart. Therefore, the ancients believed that the heart was not only an organ of organs, but also an organ in charge of thinking, and that all thinking and emotions were generated by the heart. The heart shape later evolved into a symbol to express the good feelings in people's hearts.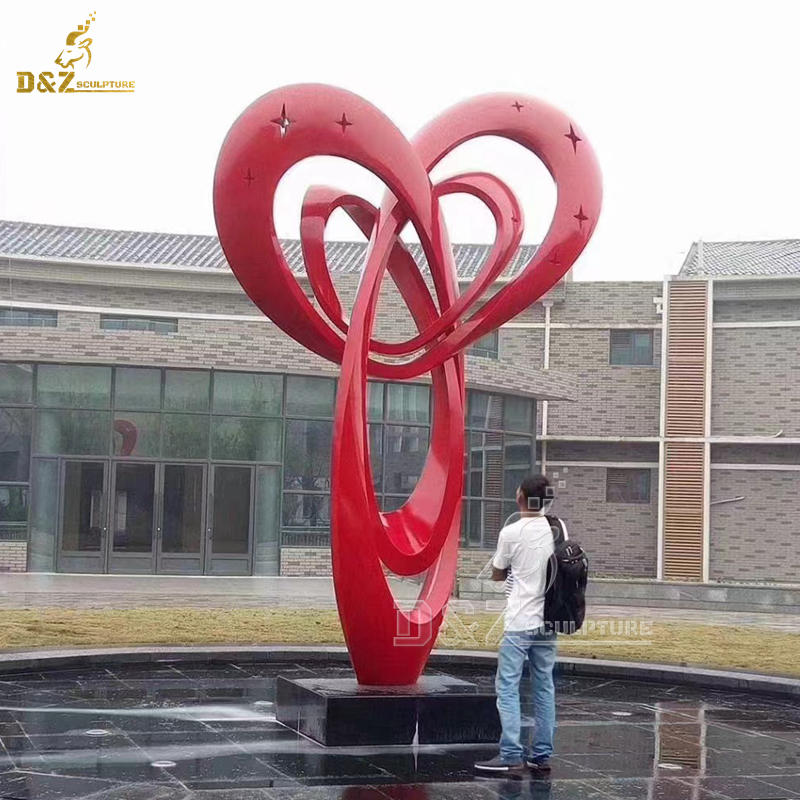 Red is a color at the low end of the visible spectrum, with a frequency range of 380~480 THz, corresponding to a wavelength of 780~620nm in the air. red is one of the three primary colors of light and one of the four psychological colors. Red represents auspiciousness, joy, enthusiasm, exuberance, happiness, fighting spirit, boldness, courage, revolution, bombast, passion, etc.
Landscape sculpture is fixed in different environments, which limits the conditions of people's viewing landscape sculpture. A landscape sculpture viewing effect must be done in advance to predict the analysis, especially the size of the landscape sculpture, scale research, as well as the necessary perspective deformation and illusion correction. People generally choose a better viewing position in the observation of the height of the pair of images twice to three times as far as the location is more appropriate, viewing the landscape sculpture is also the same.
Stainless steel sculpture is now one of the more popular types of sculpture, its appearance is beautiful and generous, in line with the needs of contemporary social trends. Stainless steel sculpture has its own flavor of charm, fashionable but not vulgar, beautiful and generous, more in line with contemporary trends. Stainless steel sculpture carved out of the work has a great characteristic is that the appearance of generous fashion, not like stone sculpture that retro, not like copper sculpture that "rich". The color of the stainless steel sculpture itself silver white, with a luster, according to the demand for the sculpture on different colors.