Modern coffee table
We D&Z sculpture is a factory which professional custom made sculpture , such as stainless steel sculpture, bronze/brass sculpture, marble sculpture.
We have a complete team of artists, our artists have been working on creating new sculptures and new works, recently we made a batch of stainless steel modern coffee table for hotel and home decoration.
This modern coffee table can be made of what you want.
If you want mirror finishing, this sculpture will be made of stainless steel and the surface will be high polished to mirror finishing, then modern coffee table will not rusty,will not fade ,will not damage.
If you like some colorful and bright things, we can make this modern coffee table chrome or plated surface, then the color can be what you want.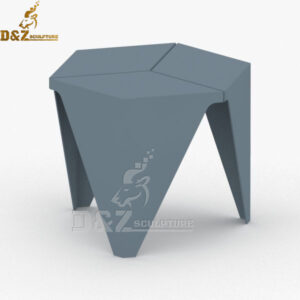 Our artist made this modern coffee table consists of several identical geometric originals,The three-leg shape makes the table more stable.
Usually this modern coffee table will be height 45cm. On a leisurely afternoon, sipping coffee and enjoying the view will bring more enjoyment to your home or hotel.
If you want more new design,just follow or contact us. we are still here to wait for you.