Round modern table
The table is also very important in our daily life and has great practicality. Just like dining table and desk are necessities in life. We also know that there are many kinds of table materials, and different materials have different effects, and they are also used in different places. Then the stainless steel table is also one of the materials, and the range of use is also relatively wide.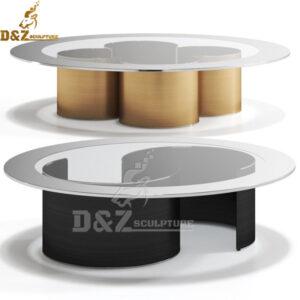 1. Stainless steel tables and chairs are mainly made of stainless steel, which has the characteristics of corrosion resistance, wear resistance, high strength and durability, and can ensure that it will not deform for a long time. In terms of appearance, the stainless steel dining table and chairs are light in structure, stylish in appearance, simple geometric structure and natural color performance, making the space transparent and bright, presenting a 360-degree openness, and the sense of transparency completes the space unknowingly. The enlargement of the room makes the living room more breathable, so making the space small and seeing the big and visual continuity is one of the most prominent advantages of stainless steel dining table and chairs.​​
2. Stainless steel tables and chairs use some special technologies. There are no welding points at the joints of stainless steel pipes, which not only improves the quality and aesthetics of the furniture, but also increases the safety of the furniture. Generally speaking, stainless steel dining tables and chairs do not use stainless steel for all parts, which will affect their aesthetics, and it is easy to generate large noise when placing items, usually with marble or tempered glass.
3. A stable and elegant dining table is placed in the living room, which symbolizes the stability and prosperity of a family. The use of stainless steel as the frame and safety tempered glass as the countertop is more high-end and luxurious, and it will not crack and deform like a wooden dining table due to backtracking.
4. The stainless steel dining table has a double-layer design, which has a large bearing capacity. Pursuing the perfect combination of aesthetics and practicality, every detail strives for perfection, bringing the family a noble and splendid compatible with Huashi, concisely outlines elegance and warmth, and exquisite craftsmanship conveys tranquil comfort.
4. Crystal-like nobility and elegance bring a new texture to those ordinary home life, those delicate and transparent romantic feelings, the sun shines through the gaps. The characteristics of stainless steel dining table are called manganese stainless steel metal material, which has been tested by acid and alkali solution, corrosion resistance, no rust, smooth texture and strong metallic luster
D&Z sculpture will help you customize the sculpture or art furniture you need, design the design for you, we will give you the best quality and craftsmanship, quality is the foundation of our brand, we value quality and strive for perfection, we only sell without flaws the sculpture