Dragon sculpture
·Intruduction
An abstract dark blue dragon hovers in the sky, Abstract character athlete doing exercise on dragon,stainless steel dragon hollow out dragon can put in the garden and park for decoration.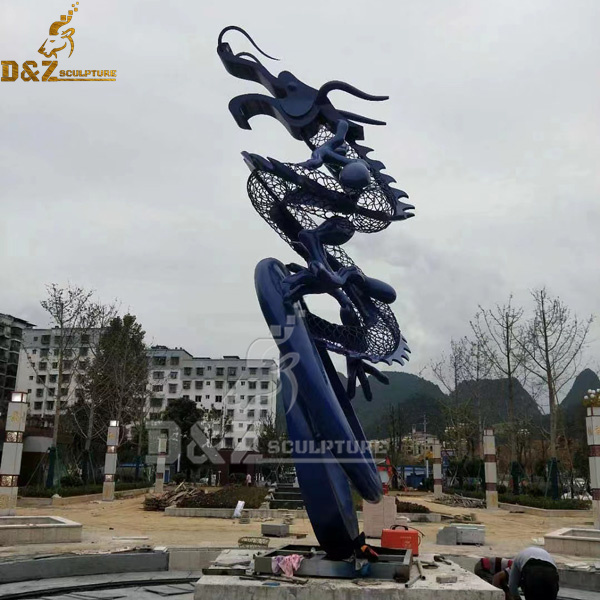 The dragon is a participant and witness of the great integration of the Chinese nation. When the Yellow Emperor launched a war of unification, the dragon made great efforts. In the battle of Zhuolu, the Yellow Emperor used the mighty dragon roar to deter the enemy, and there was a Yinglong with two wings, who charged for the Yellow Emperor's cause. Moreover, the Yellow Emperor in mythology is the "Yellow Dragon Body", and the Yan Emperor is also the "Dragon Seed" born from his mother's sense of dragon. Furthermore, the pre-Qin period was the formation period of the Chinese nation. At the same time, the image of the dragon also developed by leaps and bounds in the pre-Qin dynasties. As far as the dragon itself is concerned, it also embodies the word "合", which not only integrates animals such as fish, crocodiles, snakes, pigs, horses, and cattle, but also integrates natural celestial phenomena such as clouds, thunder and lightning, rainbows, and tornadoes. Because of the above factors, the spirit of the dragon is the spirit of unity and cohesion.
The aesthetic effect brought by urban stainless steel sculpture Stainless steel sculpture is widely used, including stainless steel landscape sculpture, stainless steel city sculpture, stainless steel garden sculpture, stainless steel square sculpture. Stainless steel sculpture is an important element of urban environmental landscape, which plays a role of embellishing the environment and finishing touch. Stainless steel sculpture is a new type of sculpture. Because of its unique characteristics of being bright, lively, not easy to pollute, and in line with modern urban life, it has been gradually accepted by the public, and its market share is increasing, and it has a tendency to surpass traditional stone sculpture. Stainless steel sculpture brings a strong sense of beauty Stainless steel requires that the sculpture has an obvious body, simple and generous, and strong light and shadow effects, and the color selection is the largest. The surface effect of stainless steel has paint finish, color steel stainless steel, brushed stainless steel, high-gloss stainless steel effect, etc. This is determined by the characteristics of stainless steel. Stainless and acid-resistant steel is referred to as stainless steel. It is composed of two parts: stainless steel and acid-resistant steel. Simply speaking, the steel that can resist atmospheric corrosion is called stainless steel, and the steel that can resist chemical medium corrosion is called acid-resistant steel. Many urban sculptures are made of stainless steel. Stainless steel sculptures mainly include sculptures set up in outdoor public environments, which are divided into four categories: commemorative, themed, decorative and entertaining. It has different but similar meanings with the popular concepts of "public art", "landscape sculpture" and "environmental sculpture" in the world in recent decades.