Abstract line scul
Urban sculpture is a symbol of a city, which can reflect the humanistic spirit of a city. Urban sculpture plays an important role in improving the quality of urban ecological environment and conveying emotional communication. At the same time, urban sculpture can also show the overall style of the city and enhance the overall image of the city, which is of pivotal significance. Urban sculpture is no longer limited to traditional aesthetics and visual art, but comprehensively considers various natural and human elements to achieve the purpose of improving the overall environment and landscape of the city and promote the development of the city. Urban sculpture is an important part of urban planning and design. The first thing a sculptor should consider is environmental issues. Urban sculpture focuses on the spiritual outlook of the city.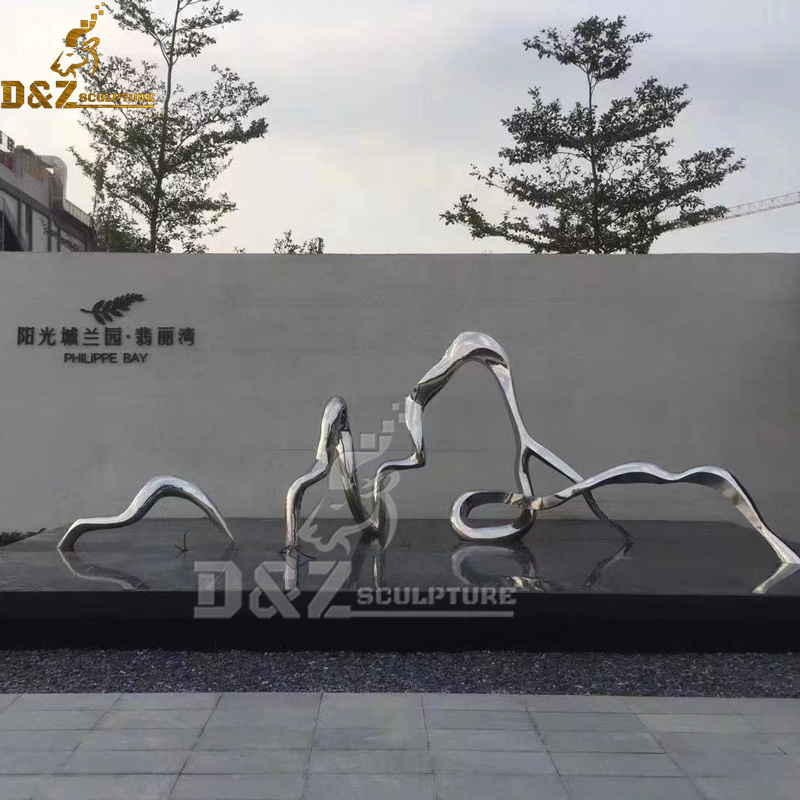 Urban stainless steel landscape sculpture is one of the most fashionable sculptures in modern sculpture. Its shape is gorgeous and smooth. In order to make them shine forever, reasonable maintenance is very important. Urban sculpture is a part of life sculpture, and urban sculpture is a part of urban scenery, which can perfectly combine sculpture and urban architecture to form a unique and harmonious natural landscape. Urban sculpture mainly refers to outdoor sketch sculpture with ornamental value. Sculpture is a kind of plastic art with strong appeal. Urban sculpture comes from life, but it often gives people a more perfect appreciation and ponder than life itself. It beautifies people's hearts, cultivates people's sentiments, and gives gardens a bright and vivid look. Theme, unique spiritual connotation and artistic charm. In addition to the function of appreciation, the more important role of urban sculpture is to organize the external scenery, form an invisible bond in the urban space, guide people from one space to another space, and play a role in guiding and organizing the composition of the space picture. Function; it can form a perfect scene from different angles, with poetic and pictorial.
Today, urban stainless steel is popular in visual culture, people's acceptance of art has created a huge change, and the sculptures involved in public spaces are becoming more and more novel. They often become the visual focus, injecting unique spatial language and modeling into the site. More life. The idea of ​​urban design, urban design is the optimization and reconstruction of garden city through artistic cuisine while people recognize generosity. Modern urban design should not only consider its use value, but also conform to ecological and aesthetic principles. The development of stainless steel urban sculpture, urban sculpture is developed from the sacrificial activities of ancient society. In ancient society, urban sculpture, as a symbol of a tribe, has a necessary religious meaning. The prototype of this kind of urban sculpture is more to express some spiritual meaning and become the main cultural expression element of the progress and growth of human society. Travel through the long process of progress. The influence of stainless steel urban sculptures on modern gardens and clean-up design is getting bigger and bigger. Every newly built park, square and green space will adopt urban sculptures to highlight the cultural conservation of the period and express the design theme. The freedom and diversity of urban sculpture design determines that urban sculpture has an excellent cultural expression.
pture