Art chair sculpture
·Introduction
With people's higher and higher spiritual pursuit, stainless steel art furniture into everyone's life. This stainless steel chair sculpture is composed of stainless steel tubes of different lengths.  Stainless steel tubes are welded to shape and highly polished to a mirror finish.Then this chair sculpture will be shiny and brighty.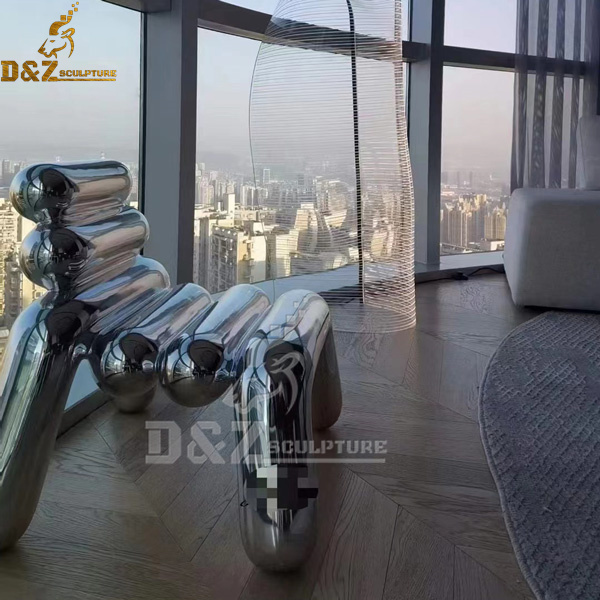 ·How to use this chair sculpture
With the development of the times, people pay more and more attention to visual and spiritual enjoyment while pursuing material things. We can often see sculptures in creating an atmosphere in our lives. Sculptures can be seen both outdoors and indoors.
From the perspective of creating a modern environment, sculpture art can play a unique function, the decoration of space, the improvement of environmental taste, and the display of cultural characteristics will all be sublimated because of the unique charm of sculpture art. In addition, sculpture art is also reflected in various aspects such as disseminating aesthetics, educating citizens and popularizing aesthetic education.
The extensive use of sculpture in interior spaces has become a trend of quality life. The artistic expression effect of sculpture can not only play a finishing touch to the interior space, but also create a lively and relaxed atmosphere for the interior space, achieve the effect of beautifying the overall environment of the home, and make the occupants spiritually satisfied.
Different sculptures create different atmospheres in the interior home
1. Living room
The living room is a place to communicate with the inside and outside and guests. When arranging sculptures here, attention should be paid to the integrity of the atmosphere of the entire living room. The style selection of sculptures should be as friendly and natural as possible, with affinity, and can reflect the owner's aesthetic awareness.
2. Study room
The study directly shows the personality of the owner. The role of the sculpture is to directly present the personality and taste of the owner. It is also good to choose some sculptures or antiques and commemorative items as decoration.
3. Restaurant
For the sculptures in the restaurant, you can choose some works in cool colors to make the food look fresher and more delicious, and create an appetizing environment.
4. Bedroom
The bedroom is generally suitable for placing sculptures such as horses and elephants, which have good symbolic meanings.
5. Commonly used indoor sculpture forms include wall relief, tabletop sculpture sketches, floor sculpture artworks, showcase sculpture art boutiques or ceiling hanging sculpture art installations.
When selecting and arranging sculptures, we need to pay attention that the style of the sculptures should be consistent with the overall style of interior decoration; the size and form of the sculptures should be in good proportion with the furniture in the interior space; the color and material of the sculptures should also be considered in unison with the furniture and decoration , forming a coherent whole.
As a modeling element, the role of sculpture in the modern architectural interior environment is becoming more and more obvious. Sculpture can express the cultural atmosphere and artistic atmosphere of the environmental space from both the content of the environment and the external form of the environment.
D&Z sculpture takes the professional team of artists as the main creative force, and is committed to the design and production of art sculptures, art wall decorations, and space installations; it pays attention to the service concept of original design, precise sculpture, and quality first. Artworks and art installations are widely used in public places such as star-rated hotels, high-end clubs, commercial spaces, and high-end residences at home and abroad
·Related Design
Using the same stainless steel tube as a prototype, we can match the stainless steel art chair with a stainless steel table of the same design. The effect diagram is as follows