Modern sculpture
Landscape is a dynamic whole system with time attribute, which is formed by the joint action of geosphere, biosphere, and human cultural circle. Today's landscape concept has involved geography, ecology, gardens, architecture, culture, art, philosophy, aesthetics and other aspects. Because landscape studies is a discipline that points the future and guides people's behavior, it requires people to cross the boundaries of their fields, to cross familiar thinking patterns, and to establish a common foundation for integration with other fields.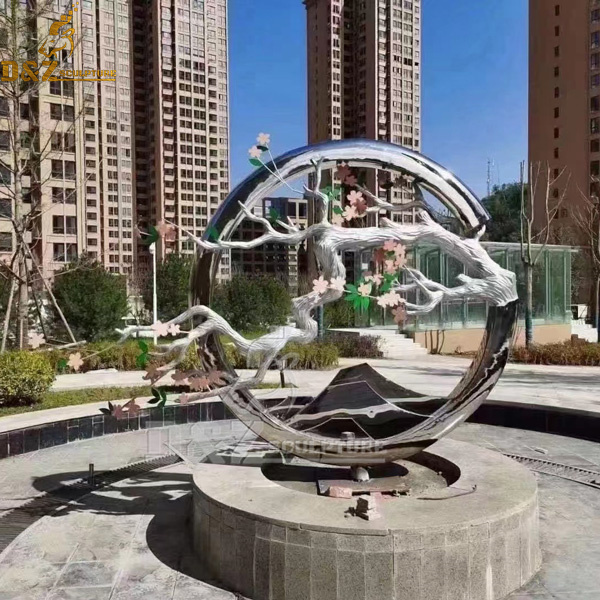 Stainless steel sculpture is a new form of sculpture. Stainless steel material has the characteristics of being resistant to weak corrosive media such as air, steam and water, and chemically corrosive media such as acid, alkali and salt, so it is loved by everyone. The color of the stainless steel sculpture itself is silvery white and shiny, which is very suitable for outdoor and indoor places such as parks, botanical gardens, gardens, residential areas, squares, shopping malls, hotels, guesthouses, and guild halls.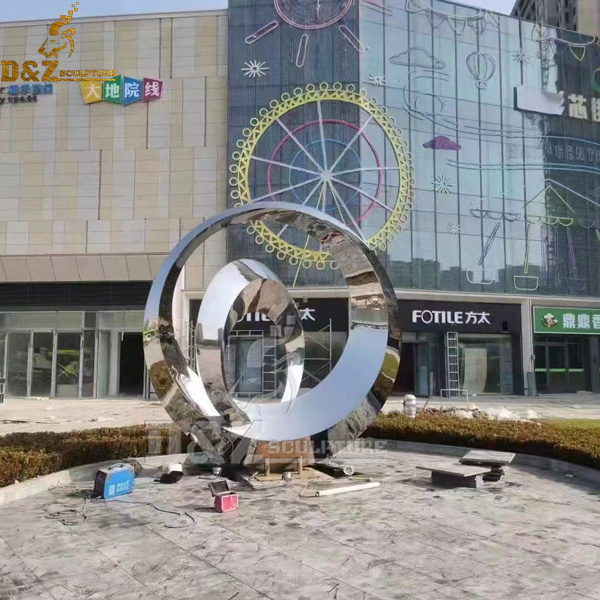 Stainless steel sculpture is not easy to rust, easy to clean, strong wind resistance, durable, and has become the mainstream sculpture in the city. Stainless steel sculptures should be cleaned regularly and placed in a dry environment for protection. It is best to wear gloves when holding it by hand to prevent salt corrosion in the sweat on your hands.
Hollow Stainless Steel Circle Sculpture is a stainless steel sculpture. D&Z sculpture co., Ltd specializes in processing all kinds of stainless steel sculptures, including but not limited to hollow stainless steel circle sculptures. Our factory has a variety of stainless steel sculpture molds, which can quickly complete the customized production of hollowed-out stainless steel circle sculptures. In addition, our factory can also adjust the material, size and style of the work, and support customization according to the picture! The company is a large-scale sculpture company integrating stone carving, copper carving, stainless steel and glass fiber reinforced plastic. The hollow stainless steel circle sculptures produced by our factory are of high quality and low price, and are all over the country! After more than ten years of development, our company has become a comprehensive large-scale sculpture company integrating design, processing, sales, installation and maintenance.