Circle sculpture
Stainless steel round sculpture
Stainless steel round sculpture using 304 stainless steel combined with baking paint process and water features, the integrity of the circle suggests infinity, unity, harmony, but also can indicate the reunion, meaning in the meaning of family joy, the circle is also beautiful, their curves are often feminized, representing warmth, comfort, while giving people a sense of sensuality and adoration, as opposed to the square indicates artificial, the circle indicates natural.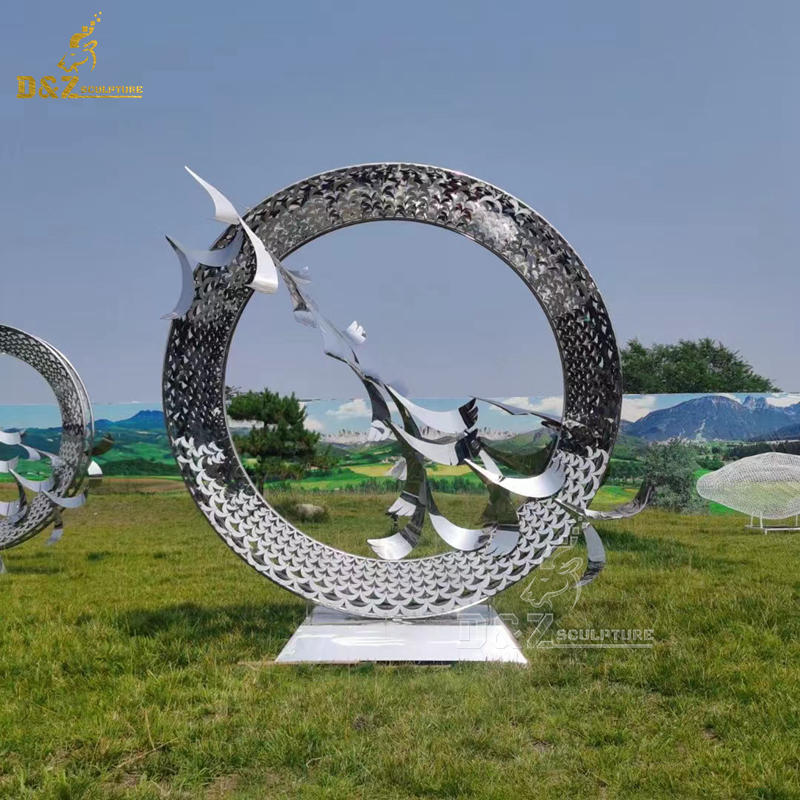 Stainless steel round sculptures use stainless steel to forge the crescent form, combined with wrought bronze lotus leaves and lotus flowers, representing protection and infinity, they restrict what is inside while not allowing what is outside to come in, representing integrity, communication, completeness and completeness. The circles seem to be free to move or roll, their sense of motion embodies energy and momentum.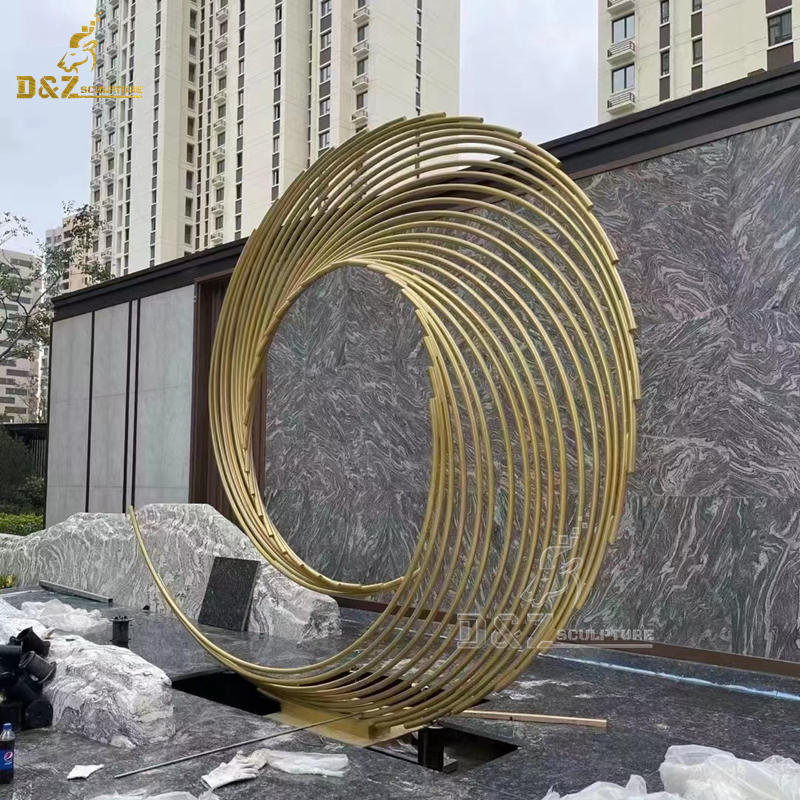 Stainless steel round sculpture material
Stainless steel material is widely used in construction projects, in recent years the introduction of the sculpture industry, both stainless steel sculpture, performance of different sculpture effect, this article focuses on the advantages and disadvantages of stainless steel sculpture.
We all know that stainless steel has the characteristics of corrosion resistance, acid and alkali resistance, in fact, these are also two important characteristics of stainless steel sculpture.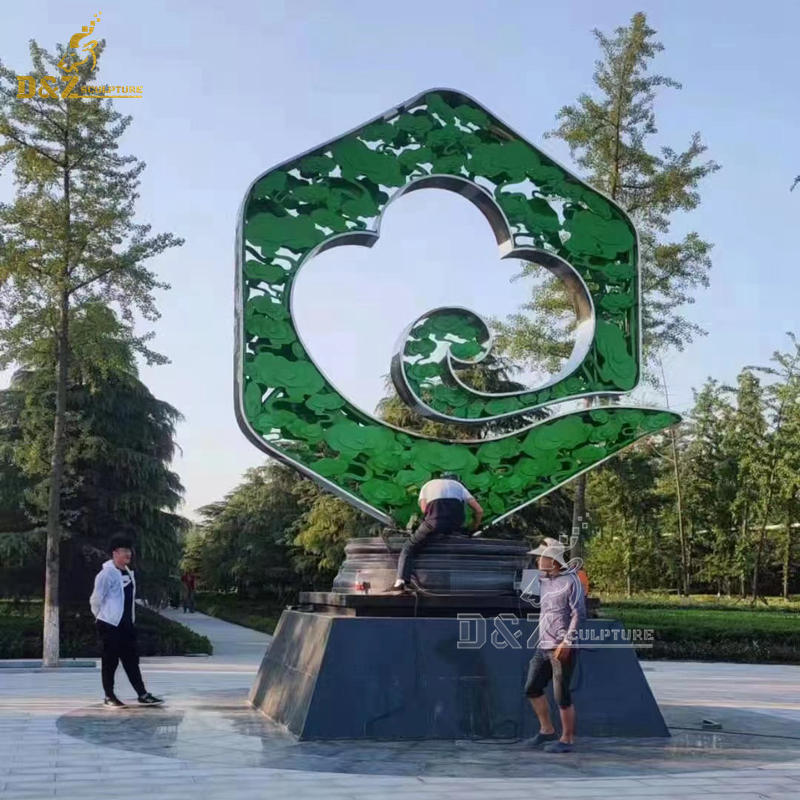 Of course, in addition to these two characteristics of stainless steel sculpture, it also has a high degree of hardness, bright and lively appearance, not easy to pollute, strong sense of the times, so the sculpture made of stainless steel is simple and generous, with a delicate sense of form, while the light and shadow effect in the sun or light is also very good.
Stainless steel sculpture is an emerging type of sculpture developed on the basis of traditional stone sculpture, because of its unique bright, lively, not easy to pollute, and modern urban life in line with the characteristics of the public has been gradually accepted, the share of the market is growing, and gradually more than the traditional stone sculpture trend.
Stainless steel sculpture, by the end of the nineteenth century and the beginning of the twentieth century, the tide of modern art, the traditional concept of art is constantly denied, new materials, new processes, new ideas are emerging. In this context, the real stainless steel sculpture – direct stainless steel sculpture was then born, which understands metal as an independent material, a completely different from the sculpture modeling language of clay sculpture, the use of cutting, welding and other new technological means directly to create.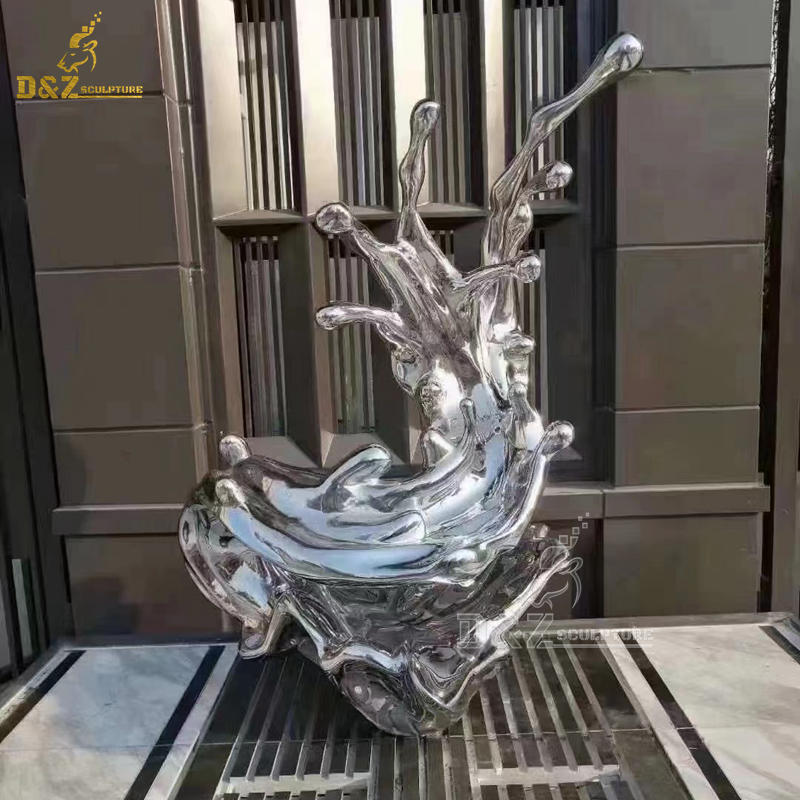 The emergence of direct stainless steel sculpture has completely changed the principles of traditional sculpture creation, enlightened people's thinking, allowing artists to create more contemporary artworks.
D&Z sculpture factory constantly updates and replaces the latest stainless steel processing equipment, constantly absorbs international stainless steel sculpture processing experience, constantly communicates with sculptors around the world, and even absorbs the most advanced experience across industries, combining artistry with processing and production to present the most perfect stainless steel sculpture works.
D&Z stainless steel sculpture manufacturers combined with imported car paint process, the introduction of professional car paint room and professional talent, a new stainless steel sculpture processing services, to bring you a new sense of shock!
Ring stainless steel sculpture
Ring stainless steel sculpture using mirror polishing process polishing 304 stainless steel, after 8 times polishing, the final formation of mirror effect. Ring stainless steel sculpture means perfection, also represents the ultimate, no angles, low-key but also rich, luxury but also introverted, all-inclusive, each element should have its own life and meaning, after the integration, the brand has a life.
The overall ring stainless steel sculpture combined with vague mountain scenery art creation, making the whole sculpture rounded, full of artistic effect.