Table sculpture
·Intrudcution
Furniture art coffee table and lamp combination,stainless steel gold plated surface. The table top is flat and the legs are formed by the shape of water droplets falling down. Triangles are the most stable structure, and three legs will make the table stable enough. In addition to the legs that hold the table in place, there are several water droplets that are falling as a form.
The lamp of the same combination is like a flower bud, and the top of the flower is the place where the lamp is installed.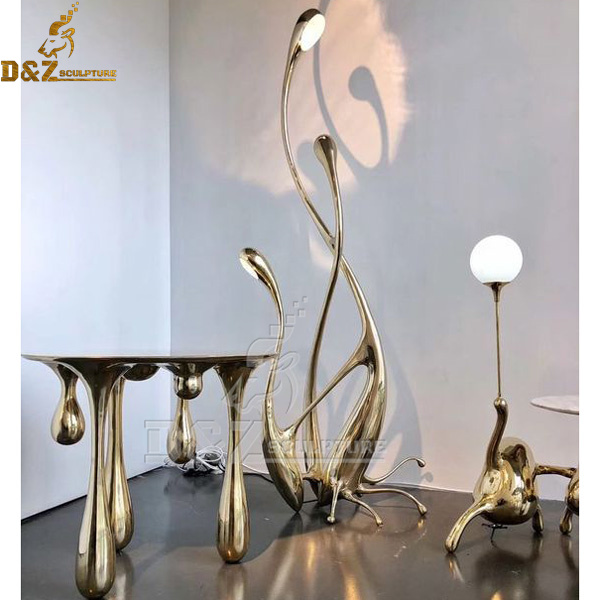 ·FAQ
1.Is it flat and practical as furniture?
Yes, As the art furniture, The tables we make will both pursue artistic effects and use effects at the same time, and the tables will be flat and level on the ground.
2.Can furniture made of stainless steel hurt people?
No, Before all stainless steel tables and chairs and other sculptures leave the factory, we will carefully polish the surface to make the table as round as possible. If you fall and hit, there will be no cuts. On the table feet, we will stick a layer of felt to prevent scratching your floor.
3.The surface of the stainless steel art sculpture
Stainless steel sculpture usually have four types for surface: mirror finishing , brushed, plated,painting.
Mirror finishing is the most used for stainless steel sculptures, it is high polished after welding. The surface will be brightly and shiny. The color will be sliver.
The brushed wire drawing process is a commonly used technique for stainless steel products. It can be made into straight grain, random grain, thread, corrugation and spiral pattern according to the needs of decoration. The brushed stainless steel surface gives a super good feel, a delicate luster, a wear-resistant surface and a personalized texture effect.
Chemical treatment is a general term for the formation of a layer of stable compounds on the surface of stainless steel by chemical or plated. Plated, as we often say, is electrochemically treated. Derusting by acid solution, anodic dissolution (electrolysis), etc. alone or in combination, and forming a protective film on the metal surface by phosphate treatment, chromate treatment, blackening, anodizing, etc., belong to this method. This method can achieve complex pattern effects, creating retro or modern design needs. It will be shiny and colorful.
Painting can be colorful.The most common car paint will do.