Abstract sculpture
Stainless steel sculpture is a common type of sculpture in our life. Because it has many advantages of being resistant to weak corrosive media such as air, steam, and water, and chemically corrosive media such as acid, alkali, and salt, many urban sculptures are made of stainless steel. for the material. Some stainless steel sculptures not only have ornamental properties, but also have strong functions, which are convenient for people to rest in them while enjoying them, so that the body and mind can be relaxed.
Material of stainless steel sculpture: Large-scale stainless steel sculpture is composed of two parts: stainless steel and acid-resistant steel. In short, the steel that can resist atmospheric corrosion is called stainless steel, and the steel that can resist chemical medium corrosion is called acid-resistant steel. Stainless steel sculptures can be seen everywhere in our daily life. Hotels, cafes, restaurants, etc. make full use of stainless steel sculptures as decoration, which plays a role in setting off the entire environment. It has a strong overall sense of light and is not easy to break and the overall feel is good. After passing through many places, it can be seen that stainless steel plays a finishing touch in the interior as a decoration. Stainless steel sculpture is a new type of sculpture developed on the basis of traditional stone sculpture. Because of its unique characteristics of being bright, lively, not easy to pollute, and in line with modern urban life, it has been gradually accepted by the public, and its market share It is getting bigger and bigger, and there is a trend of surpassing traditional stone carvings. Stainless steel sculptures are widely used in gardens, parks, streets, government agencies, streets, etc. Different stainless steel sculpture materials have different characteristics. The commonly used materials for stainless steel sculptures are 304 and 316. These two models also determine the quality of stainless steel sculpture products. good or bad. There are certain differences between these two models. Relatively speaking, the 316 is of better quality and more expensive. 304 is matte and not easy to rust. The difference between 304 and 316 is that 316 has better corrosion resistance and hardly rusts. Generally, 304 stainless steel will not rust in places not near water. Therefore, 304 stainless steel is used in most places far away from water or infrequently in contact with water. 316 stainless steel is mainly used in some engineering projects, where it is often exposed to water or humid air.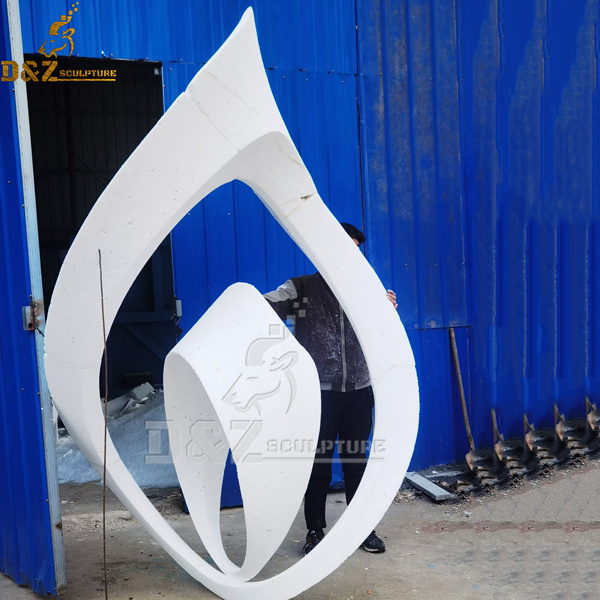 Design principles of stainless steel sculptures: The design of stainless steel sculptures generally starts from several general directions: 1. It reflects a positive outlook. This type of sculpture basically has a unified theme, such as soaring, galloping, sublimation, etc. Although it is relatively vulgar, it is not acceptable. It is denied that there is a large market, especially in urban sculpture, which occupies a large proportion. Designers can neutralize the customer's intention in the creation and create new ideas to avoid a large number of non-nutritive repetitive sculptures flooding the market; 2. Show local or corporate characteristics, Generally, it is a combination of local, enterprise characteristics or historical features, such as electronics, textiles, machinery, hot springs, etc., the customer requires to show its characteristics, and consider integrating its characteristics into the sculpture creativity when creating, and sublime it to carry forward, so that the sculpture plan On the premise of maintaining artistry, it also integrates industry or local characteristics; 3. It is freely developed by the creator. This is the most favorite situation for sculpture designers, but it is also the most difficult. Designers must be responsible for themselves and grasp the quality of artistic creation. , to create responsible works of art, not shoddy. For general creation or custom-made stainless steel sculptures, if there is no mature and complete sculpture plan, then the communication in the early stage is very important. Considering the location of the sculpture and the surrounding environment, the main points of communication with the customer are: the conception of the sculpture, the overall The style, size, and cost are all reflected in the communication. As a creator, you must deeply understand and thoroughly understand the client's intention, communicate actively and effectively, and avoid detours in creation, which can greatly reduce the modification of the later sculpture plan. This is especially true for the design and creation of large-scale stainless steel urban sculptures. Some urban sculptures with distinctive regional characteristics also require the creator to have a corresponding understanding and understanding of the local customs and cultural heritage. Under the guidance of clear design concepts , Sculpture designers conceive and create, extract a large amount of information collected, grasp the artistic quality and cultural connotation, and generally hand-paint a large number of design sketches first, which is also an important stage for generating inspiration and creative running-in.
Usually the produce process:
1, make the 3D drawing according to the customer idea. and let customer confirm if need to be modify.
2,make the foam model according to the drawing.
3.make the stainless steel sculpture shape,then polished to mirror finishing or brushed.
We will update all process to customer, This ensures that the final sculpture is something that you can satisfy and like.
There are some sample of the process :
If you want more abstract sculpture designs, just tell me freely. we can custom made for you, such as abstract modern sculpture, abstract metal sculpture modern,large abstract sculpture, abstract garden sculpture, modern abstract sculpture,metal sculpture abstract.