Globe sculpture
Stainless steel globe sculpture, also known as stainless steel globe-metal hollow globe, refers to a globe-shaped sphere made of stainless steel, which is mostly built in outdoor places such as campuses, enterprises, and city squares.
The surface polishing method of making stainless steel globes is very important, not only to ensure the beautiful appearance, seamless welding, simple and perfect shape and lines, but also to ensure the accuracy of the latitude of the stainless steel globe.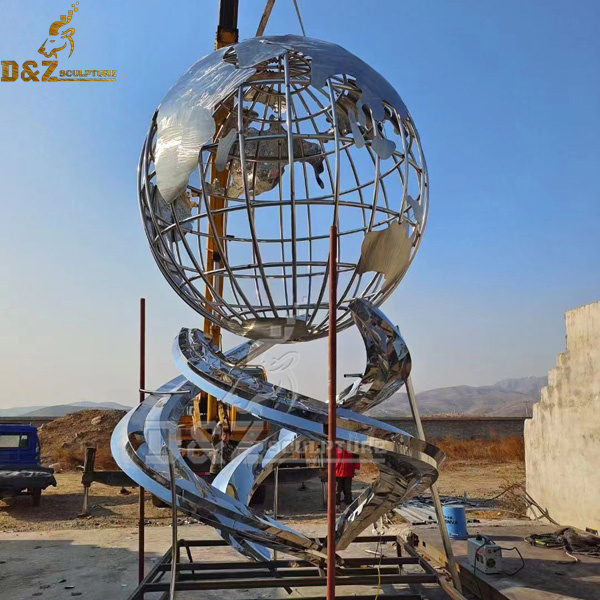 The stainless steel globe sculpture placed in the enterprise reflects the spirit of an enterprise advancing with the times and pioneering and innovative, symbolizing the vigorous vitality of a city.
The stainless steel globe sculpture on campus not only decorates the campus culture but also enriches the imagination of students.
The large stainless steel globe is made of 304 stainless steel tube, which represents longitude and latitude. The surface of the land part is forged with 304 stainless steel plate, which has a strong decorative effect and is strong, wear-resistant and corrosion-resistant. Large stainless steel globes can be customized in size and size, and can be customized to distinguish plates. In order to facilitate the understanding of the earth, people imitate the shape of the earth and reduce it according to a certain proportion to make a model of the earth – a globe. There are deformations of length, area, direction and shape on the globe, so the relationship between various scenes observed from the globe is overall and approximately correct.
A globe is a model of the earth. Although it cannot represent various geographical things and phenomena in detail like a map, nor can it fully reflect the actual situation of the earth, it can avoid errors and deformations in length, direction, area or shape on the map, and can help us Clarify many related concepts of the earth and obtain the main concept of the earth body.