Metal deer sculpture
·Introduction
Do you want a set of abstract deer sculpture for your garden?  This is a set of three abstract metal deer sculpture. There are two males with antlers, and one female. The doe is leisurely looking down and eating the grass.The other two bucks stared straight ahead as if they were guarding the female deer in the middle. If there are predators nearby, they will flee as fast as they can. You can put this deer sculpture set in your garden or put one of them. That's all no problem.Our MOQ is 1 pieces.
·Ingredients and materials
The most used metal is 304 stainless steel material to make the metal deer sculpture.  Stainless steel sculptures are common urban sculptures. Stainless steel has the characteristics of being resistant to weak corrosive media such as air, steam, and water, and chemically corrosive media such as acid, alkali, and salt. Because stainless steel sculptures have many advantages, many urban sculptures are made of stainless steel.
If there is no special requirement for the thickness of stainless steel sculpture, it is generally made of 2mm stainless steel plate. The larger the thickness of the plate, the more difficult it is to shape and the higher the price. Usually the metal deer sculpture can put outdoor for lifetime,because 304 stainless steel will not fade, will not rusty, will  not damge. The abstract deer sculpture can be polished,and then the outdoor deer sculpture will be shiny and brightly all the time.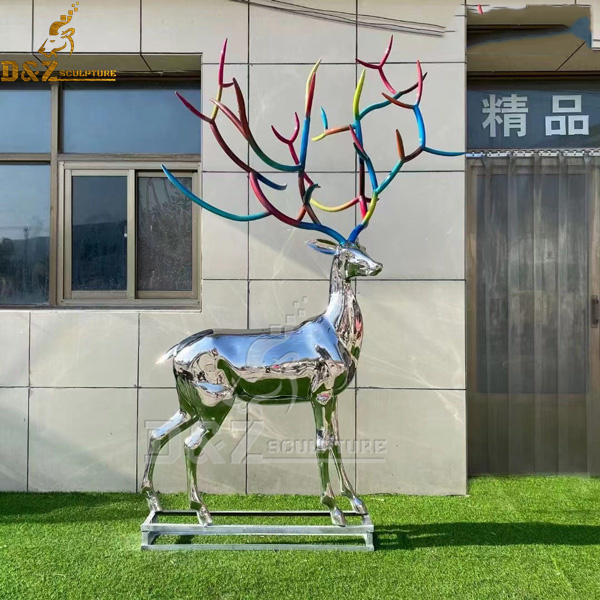 ·Method of production and payment
1.We will make the 3D drawing for your confirm if the shape need to be modify after we received the 50% deposit.
2.Then we will make the foam model to let you confirm the shape again after you confirm the 3D drawing.
3.We will welding the 304 satinless steel as this shape.
4. High polished the surface as mirror finishing
5.You can  see the bright deer sculpture in the end.
6.You arrange the balance, I will arrange the package and shipping.
You can see all the process pictures in the making product, we will modify the 3D drawing until you like it. So the final sculpture is must what you want.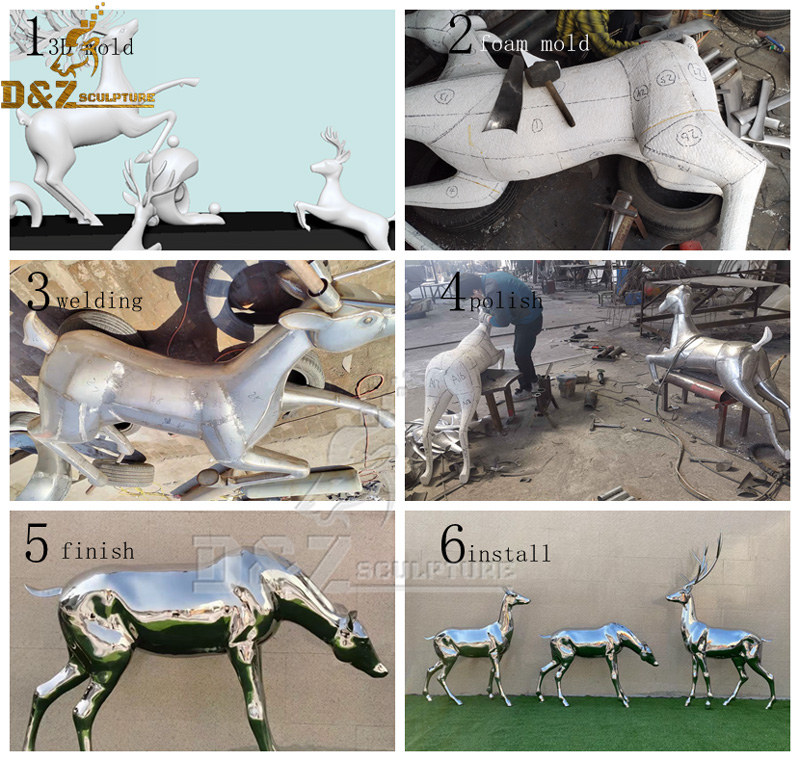 ·Install way
For the intsall way, we have different ways for you choose to suit your install. For example, if you need to install in the garden, we advice you use the metal structure. Please check it in the picture shown.
In the bottom of the sculpture with large metal structure, when reach your site,you can pouring into the concrete,this way suitable for outdoor life size and large sculptures.
In this way, it can't moved, but it will be fix,and never fall down. you can use it for life time.