stainless steel wings sculpture
Wings (wings) are an organ of flight for living things. The role of wings is mainly to provide forward momentum and maintain body balance when flying. The creatures with wings in the three-dimensional world are mainly birds, insects and bat-like animals. The wings of a bird are the basic structure of flight. The outside of the wings are covered with hard feathers and their properties are suitable for flight. The shape of the wings is determined by the feathers that allow the bird to fly. As the feathers flap downward, the air under its wings creates a pushing force called drag. And because of the different size of the flight feather plumage, the resistance on both sides of the plumage is also different. Square sculpture is now very common, we often see this shape of sculpture walking on the road, the material varies, but all show us the aspiration for a better future. Square stainless steel sculpture is a new type of sculpture material, with the continuous development and progress of the times, stainless steel sculpture has now occupied a more important position in our lives.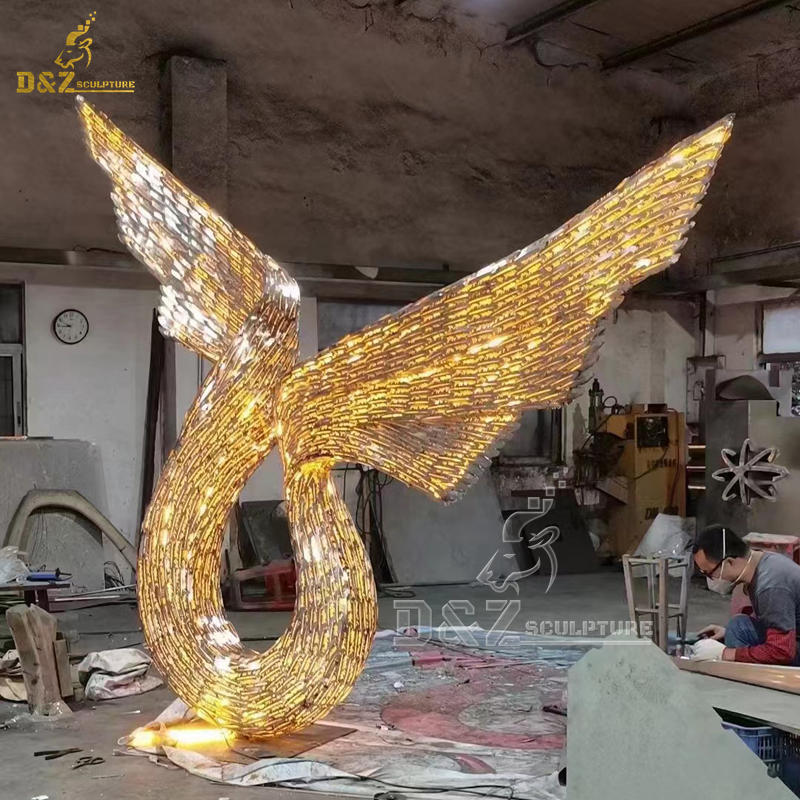 Square stainless steel sculpture production is generally based on customer requirements and site and other characteristics of the design type of sculpture, and then can be small draft production, sculpture designer according to the required proportion of the enlargement, the production of the skeleton, while the skeleton for reinforcement, corrosion and rust treatment. After the start of the overall stainless steel plate cutting, cutting out the required stainless steel plate can be used to start welding argon arc welding, the general requirements to achieve no obvious weld seams, smooth lines, smooth surface. After the completion of these began to polish the stainless steel sculpture, so that the texture natural. In this way, the square stainless steel sculpture production is complete, after the sculpture packaging is completed, transported to the site, the site in the installation can be. Square stainless steel sculpture in the sculpture industry now occupies a very important position, adding more luster to our lives.