Wire sculpture
Continuous ups and downs, the mountain symbolizes strength and fearlessness, the mountain symbolizes courage, the mountain symbolizes the thin heat, the mountain symbolizes the spirit of not falling, and the mountain is a symbol of the national spirit. There are two common process effects of stainless steel rockery sculpture. The first one is stainless steel solid round rod bending effect rockery sculpture, and the other is stainless steel plate laser mountain-shaped rockery sculpture. These two are crafts in landscape sculpture.
Stainless Steel Rockery Sculpture – Emotional Expression of Modern Sculpture Creation In life, we will find stainless steel sculptures of figures everywhere, such as hotels, parks and other places. Because of the decorative nature of the sculpture, it has played a great role in setting off the entire environment.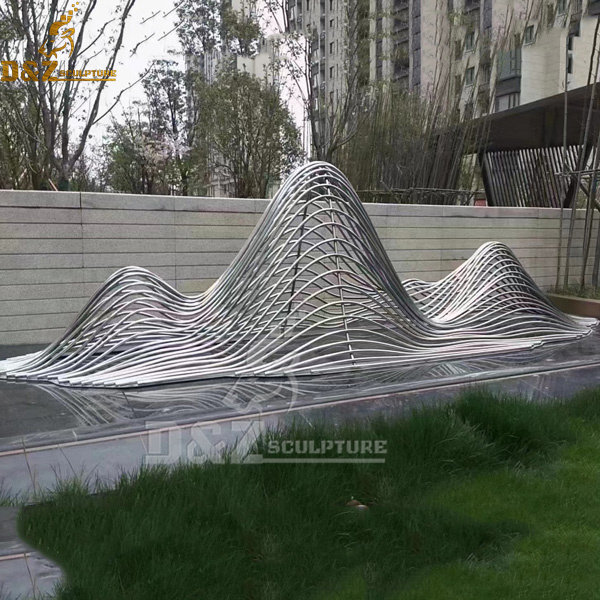 Modern people like to design courtyards. For example, there are some rockery scenery in their own courtyards or residential quarters, which can not only watch but also improve their fortune. The feng shui meaning of rockery: backing the mountains. There is a saying in Feng Shui that "the mountain controls the people and the water controls the wealth". A good rockery Feng Shui can represent the backing!
Rockery sculpture is a very common landscape in residential areas, parks and other places. Common materials for making mountains include cement and stone, but these two materials are generally found in large rockery sculptures, and small rockery sculptures are generally found indoors, most of which are resin materials. Can be seen in many hotels. Stainless steel rockery sculptures are generally small and can be placed in residential areas, roadside green belts and other places, and can be made into various shapes. The colors are generally spray paint and baking paint.